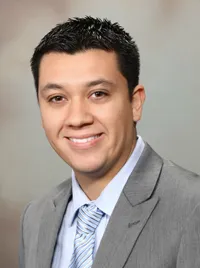 Gabriel Cardenas Jr., DPM is a native of Southern Illinois and alumnus of Maryville University-St. Louis where he graduated with honors.
He received his doctorate from Rosalind Franklin University of Medicine and Science.
His post-doctoral training included a three-year surgical residency in Reconstructive Foot and Ankle Surgery at SSM DePaul Health Center in St. Louis, Missouri where he served as Chief Resident.
EDUCATION
DePaul Health Center Podiatric Medicine and Surgery Residency
07/2010-06/2013
Reconstructive Rearfoot and Ankle Surgery
Scholl College of Podiatric Medicine- Rosalind Franklin University of Medicine
08/2006-05/2010
Doctor or Podiatric Medicine
Honors, Awards, Certifications:
Chief Resident DePaul Health Center Podiatric Medicine and Surgery Residency 2012
Stryker Podiatry Resident Training Course 2013
Ankle Arthroscopy Course 2012 and 2013
Podiatric Tendon Transfer Course 2013
ACFAS Advanced Forefoot Arthrodesis Course 2011
ACFAS Advanced Rearfoot Arthrodesis Course 2011
AO Basic Podiatric Surgical Course 2011
AO Advanced Podiatric Surgical Course 2013
National Board of Podiatric Medical Examiners Part I, II and III
Missouri Board of Podiatric Medicine Permanent License, 2013, Number: 2013001935
Research and Lectures:
Calcaneal fractures proper reduction techniques for Essex Lopresti Type A and B patterns-2013 DePaul Podiatric Residency
Peroneal Tendon Repair a Case Study-2013 DePaul Podiatric Residency
Idiopathic Bone Marrow Edema of the Lower Extremity a Case Study-2012 DePaul Podiatric Residency
Osteoporosis and Podiatric Implications-2010 DePaul Podiatric Residency
Activities and Professional Societies:
DePaul Health Center Residency
APMA Young Member's 2010-2013
ACFAS 2010-2013
ACFAOM 2010-2013
Scholl College of Podiatric Medicine
member of ACFAS, Student Chapter – 2006-2010
member of AAPPM 2006-2010
member of AAPSM 2006-2010
member of KTE, instructed Podiatry in Spanish Lecture Series
member of APMA 2006 – 2010
Current Hosptial Priviliges:
SSM St Clare Health Center
Now also treating patients at Anderson Hospital, Maryville, IL.
Fluent in Spanish!